Video Repository
Enterprise Video Cloud and Repository
The YuJa Enterprise Video Platform helps enterprises maximize their digital assets by providing a comprehensive Video Content Management Platform (VCMS) to securely store, organize, and access media across platforms.
OUR ENTERPRISE VIDEO CLOUD IS TRUSTED BY LEADING ORGANIZATIONS
Full-Scale Video Repository
Scale Media Within Your Institution With a Full-Scale Video Repository
YuJa automates the process of converting your video files into easy-to-view formats accessible on a variety of devices.
Full-Scale Video Repository
University of Calgary
The YuJa Video Platform has enhanced teaching at the University of Calgary with features such as auto captioning and the addition of different languages to captioning, along with the ability to do simple editing and add indexes or chapters — all of which can help instructors facilitate learning and support diverse learners.
Read the case study
Video CMS
Video CMS for Digital and Video Asset Storage and Streaming
Brand Customization
Align the experience to match your organization's brand
Video Quizzes
Create engaging and interactive video quizzes to measure and track retention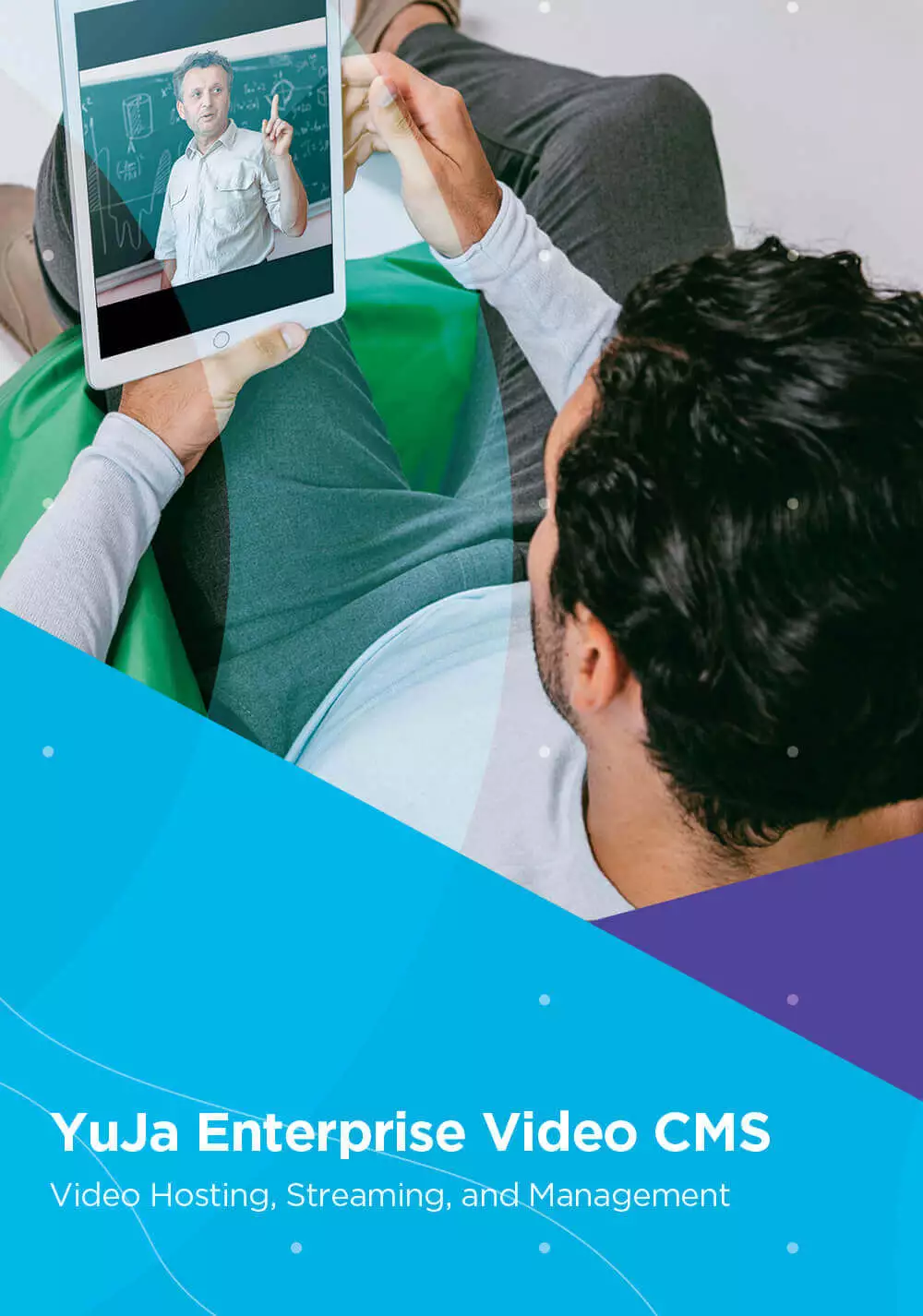 YuJa Enterprise Video CMS
VIDEO REPOSITORY
Comprehensive Video Cloud Repository Solution
Cloud-Hosted
Manage and Organize Your Digital Media
The YuJa Enterprise Video Platform enables your organization to get more value from your digital assets by making them easy to organize, discover and distribute.
Branding Capabilities
Deep Branding and Customization Capabilities
The YuJa Enterprise Video Platform enables your organization to create institution-aligned branding within HTML5 player, login screen and main site, media player capabilities and available buttons.
Search-Inside-Video
Powerful Search-Inside-Video and Library Search
YuJa creates multi-faceted metadata which enable deep search-inside-video and full video library search. Viewers can quickly find specific concepts within the audio, slides, indexes, comments, and notes .
Secure and Protect
Protect Your Content With Secure Streaming
YuJa secures your videos during both the storage and streaming process to prevent unwanted distributed. Our products are audited and validated by external auditors to ensure they are conformant to industry-standard security standards and requirements.
Transcode Management
Flexible Video Transcode Management Capabilities
Transcodes are automatically generated for all videos uploaded to the Video Platform to provide different video qualities. The Video Platform also provides capabilities to manage and adjust the transcodes available for a particular video.
YuJa Case Studies
North Carolina Virtual Public School
"It's a fairly easy to use tool. We're a large organization. We have hundreds of teachers… It's nice to have a tool that is universally easy to use."
Join the Hundreds of Organizations Deploying High-Impact Learning Solutions