Video Conferencing
Video Conferencing For Education
Use YuJa's Video Conferencing platform to scale online training and education programs within your organizations.
Video Conferencing Solutions Trusted By Leading Organizations
Video Conferencing
Deploy Interactive Video Conferencing for All Educational Delivery Models
Deploy engaging video conferencing solutions for virtual classrooms, webinars, office hours, and tutorials.
for All Educational Delivery Models
Video Conferencing
A Video Conferencing Solution Designed for Education
Solution Designed for Education
Solutions
Solutions for Diverse Educational and Collaboration Needs
Create new learning opportunities for students with scalable, collaborative, and interactive tools that work the way they learn.
Hybrid & Blended Classes
Deploy a single video solution with integrated lecture capture, live streaming and video conferencing platform.
Remote Interview
Conduct interviews using cost-effective video conferencing to reduce unnecessary travel expenses.
Virtual Office Hours
Host drop-in and small group office hours right within your LMS or CMS with nothing to download or install.
Small Groups
Provide your students with convenient tools for group projects and after-hours meetings.
new learning opportunities
Training and Collaboration
Virtual Classroom for Instructor-Led Training and Collaboration
Setup online classes, office hours and tutorials right from your web browser.
INSTRUCTOR-LED TRAINING AND COLLABORATION
Annotation Tools
Real-Time Whiteboards for Live Instruction
YuJa's real-time whiteboard enables participants to draw and annotate within a live Video Conference session ideal for one-on-one office hours, small group collaborations, and large-scale video conferencing.
Oakland University
The multi-year contract was awarded following an extensive Request for Proposal (RFP) review that described the university's specific service requirements for an enterprise lecture capture solution, video management, and video conferencing capabilities. These tools support Oakland University's aim to implement their online learning strategy for the upcoming Fall 2020 semester during the uncertain times.
Screen Sharing
Desktop Sharing to Enable Hands-On Learning
Whether you are designing a 3D model, sharing slides, or editing a document, desktop sharing allows students to see what is being presented on your desktop and follow your on-screen actions through their own screens.
Breakout Rooms
Manage Individual Video Breakout Rooms
Split your Video Conference meetings into separate Breakout room sessions. Choose how you can split the participants of the meeting into separate sessions automatically or manually at any time.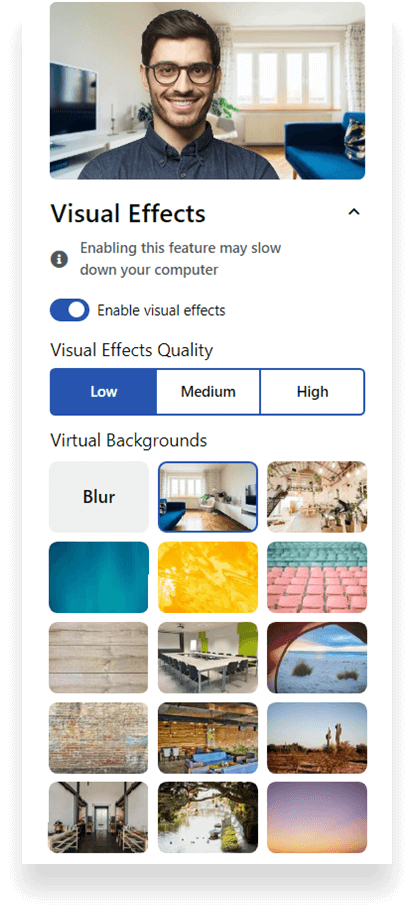 Virtual Backgrounds
Add a Virtual Background, Watermark, or Blur an Image
Using the Video Editor, instructors can quickly add a Virtual Background to help maintain the privacy of their location. They can also insert a watermark or blur portions of an image for brand consistency, to hide personal information or to remove distractions from an image.
Audience Engagement
Raise Your Hand in a Webinar
Video Conference participants can perform a Virtual Hand Raise within a meeting to make a request, ask a question, or indicate any confusion to the Meeting owner without unmuting their microphone.
Cloud Video Conferencing – Live Collaboration and Online Learning
Affordable Virtual Classrooms for Education
Forget the need for expensive hardware. With YuJa's Virtual Classrooms all you need to participate is a web browser.
Online Classroom That Just Works
Make distance-ed an exciting win-win scenarios for teachers and students with simple virtual classrooms.
Scales From a Single Classroom to Campus-wide Deployments
With flexible deployment options, YuJa can be deployed within a single course, department or campus-wide.
Join the Hundreds of Organizations Deploying High-Impact Learning Solutions